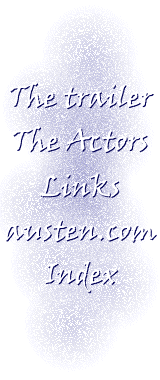 Edmund Bertram, played by Jonny Lee Miller

Edmund "The Boy" Bertram, will be portrayed by the British actor Jonny Lee Miller, known best from "Trainspotting", where he starred alongside Ewan McGregor, and "Hackers", where he met his wife, Angelina Jolie. Bertramites might recognise him from the 1983 version of "Mansfield Park", where he played Little Boy Price.
Henry Crawford, played by Alessandro Nivola

Our most favourite rake, by Jane Austen described as "plain and black", will be played by a tasty (blonde) actor. Well, something can be said for artistic license, I suppose. He's an American actor, in possession of a fine British accent, so he doesn't need to be ashamed of appearing in this English costume drama.
Mary Crawford, played by Embeth Davidtz

The Australian actress, known from movies as "Mathilda", where she played the endearing Miss Honey, and "The Gingerbread Man", where she starred alongside Kenneth Brannagh, will be playing the cunning, charming and witty Mary Crawford, and judging from this spicy picture, and her line in the trailer, we can judge that she will be very equal to the task.
Fanny Price, played by Frances O' Connor

The sweet and gentle Fanny Price will be played by the relatively unknown Frances O'Connor.... well, she certainly has the right name.
Frances O'Conner--Fanny Price
Alessandro Nivola--Henry Crawford
Jonny Lee Miller--Edmund Bertram
Embeth Davidtz--Mary Crawford
Harold Pinter--Sir Thomas Bertram
Lindsay Duncan--Lady Bertram? (Played Lady Ballaston in the A&E Tom Jones)
Sheila Gish--Mrs. Norris?
James Purefoy--Tom Bertram
Victoria Hamilton--Julia Bertram (Played Henrietta Musgrove and Mrs. Forster)
Justine Waddell--Maria Bertram (Played Tess in the A&E Production)
Hugh Bonneville--Mr. Rushworth
Benny Pest--Mr. Yates

Note: Information on the last two was found at IMDB--Benny Pest was not in the trailer credits, and HB being Mr. R comes from the IMDB. On the Mrs. N/Lady B situation, I'm just guessing that to be the state of affairs with no real surety, although feel positive on the rest of it.